1 JUST DO IT
Okay it might have taken me quite a while to convince myself to be a blogger. I always suggest blogging to other people whom I knew are good at writing and expressing their selves through writing. (see the story behind the name)  When I started to realise that anyone can start a blog, I have made the decision to create my own blog whether I am good at writing or not. Thank you GOOGLE
2 LOOK FOR INSPIRATION AND GET INSPIRED
The second thing I did was to look at other bloggers within my niche and learn how they have designed their blogs and what makes them stand out from the rest. I also have looked at their followings and how they engage with them. This helped me understand that your audience and followers are the ones who share your blog post content to other people. Therefore, you need to make sure that the content created is of a high standard and good quality where everyone can relate to.
3 MAKE UP YOUR MIND
Making up your mind in terms of choosing the right platform for blogging, name of your blog, colour scheme, themes, niche and so on. Grab a paper, and list out all the necessary things that would help you solve any queries you have in mind. This particularly applies to those early stages of creating a blog.
4 IT IS NOT ALWAYS AS EASY AS YOU THINK
Blogging killed me. Not literally but what I meant was I did not expect it to be this demanding. (note: I am in no way complaining, but this is the best way I can describe it). I do agree in the saying "Good things comes to those who works their a$$** of  and never give up.  Never underestimate a thing that you yourself have not experience yet.
I have joined a number of blogging groups at Facebook, twitter and Instagram and half of them offers follow to follow thread on a certain day of the week. There was a day where I have joined 4 thread in one day where all you need to do is follow all those who like the thread. I believe, I have followed a total of 180 people on Instagram and received 100 followers in return, on that same day. The next day I lost 100 followers, yes I have lost all the followers that followed me the day before. Lesson of the story it takes patience and persistence to be a well established blogger, and I'm accepting the challenge.
5 IT ALL TAKES TIME
This is applicable for those starting up to grow their following. I myself do not have that much followers but I do believe in having good relationships with your followers. However small or big the size of following you have, make sure to let them know that you care for them and support them in return. This will then, in time, help you in the future to gain more followers. Also, keep engaging with other bloggers and influencers to get tips on how to increase your following and improve your blog.
6 TRUST YOURSELF FOR OTHERS TO TRUST YOU
This was my main problem before deciding on creating my own blog. I did not trust myself to be a good blogger as I knew I was not that good in expressing myself. However upon reading other peoples blog, I was able to gain confidence and trust myself in learning new things and improve my skills. Trusting yourself and being confident normally reflects through the words you choose and the presence you have. I am still not that confident in blogging, but I am currently learning about creating an evergreen content to provide interesting and relevant post to all my followers and readers.
7 SHARE WHAT YOU HAVE LEARNED IN LIFE
Sharing your own personal experience to your readers is a great content which normally everyone can relate to as it happens in a real life situation. This is what I call relate-able blog post (read Money mistakes in my 20's), and often encourages readers to share and engage with your blog. Everyone makes mistakes and all we can do is accept it and learn from it. This way we are equipped and ready to face on the next challenge that come our way. It is always interesting to read about success stories regarding overcoming obstacles and realising that sometimes it is all in the mind. MIND over MATTER.  I live by this quote. Blogging has helped me share my stories and reflect back on them to appreciate where I am now.
8 DON'T GIVE UP
As a new blogger putting your brand or name out there is quite daunting as you are not the only blogger in the world.  I was determined to have at least 1-5 views on my blog to start with as I only had 2 -3 posts at that time. Commenting and liking other people blog post for them to read my blog post in return, was one of the first steps I did after joining all social media platforms.
My goal for the month originally was to get 100 views. However I was able to receive 500 view after 5 days of engaging with the blogging community and reached 1000 after 10 days. This inspired me further to keep posting blog post and continue to engage on all social media platforms. I then have set a target of 3000 views for the month.  Luckily was able to achieve it on the 28th of January which is 18 days after continuous engagement and sharing my blog. Don't give up.
9 BALANCE
One of the hardest thing I encountered is how to balance everything required to be a successful blogger. The items below are a list of some of the things I needed to do or to be a blogger.
Blogger
Researcher
Content Creator
Editor
Photographer
Social media influencer
Marketing
Self Promotion
Website designer & management
Endorser
Brand Ambassador
Contact brands (Established or start-up)
Contact other bloggers for Guest Post and Collaborations
Partnering with brands
Being a blogger is more than just producing great content. Balancing all the tasks required may take some time. I am in the process of getting used to it but thanks to scheduling apps, they are able to control all my posts and contents. If you wan't to learn more about what scheduling platform or apps do I use. Please leave a comment down below.
10 ENJOY AND EXPRESS YOURSELF
A journey of a thousand mile begins with ONE step at a time. Enjoy the journey and make the most of it. Stop letting people who do so little for you, control so much of your mind. You are in charge of your own happiness therefore EXPRESS YOURSELF.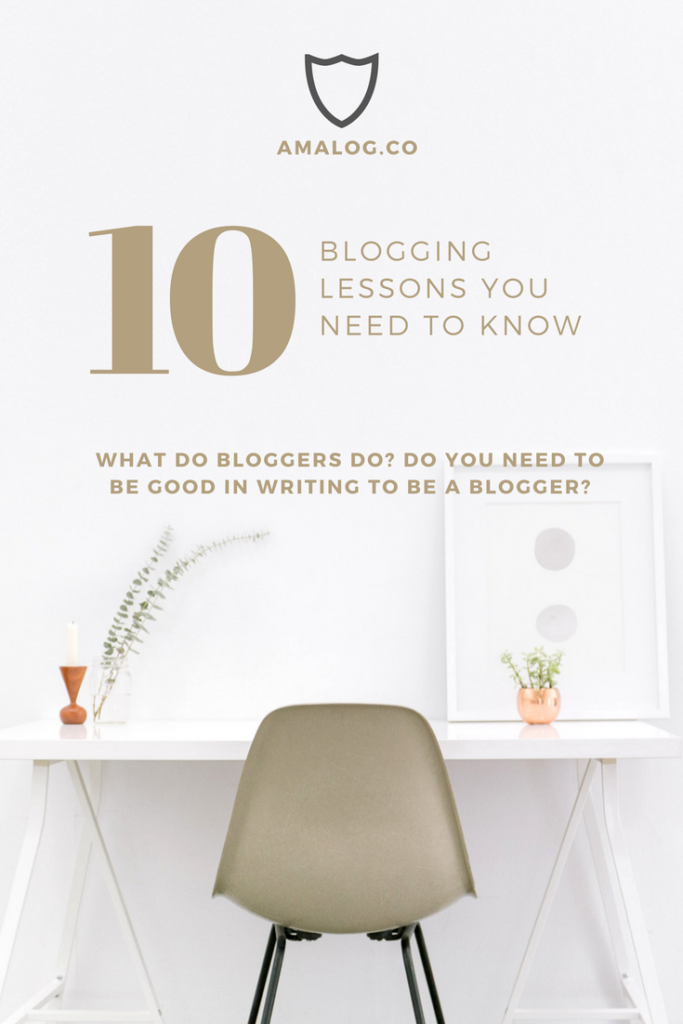 If you've missed my previous post please click the links below
Do you love travel blogs? Check out my blog post about  How to travel around 6 European countries in 10 days, Top 5 underrated European Cities to visit.
Travelling on a budget? read my previous post about  Wanderlust Fund – Savings Challenge.
Planning for your next destination? read this post How to plan your trip and Travel Essentials – Summer Holiday
Interested in personal finance topics? read my top 5 money mistakes
If you love this topic, please leave a comment or share it on any social media platform and tag Amalog.
Photo Credits:
Canva
Pixabay – Lum3n